Our story
The Netherlands Cancer Institute is the primary cancer Institute for research and care. Since its foundation in 1913, the Netherlands Cancer Institute has combined its care for cancer patients with groundbreaking research. We want the best care for every patient. Because cancer can happen to all of us.
Committed
We are committed to care with personal attention and warm and professional dedication and genuinity. We will make sure that our treatment best fits our patients and their needs, wishes, and preferences and will find a personalized treatment together with our patients.
Excellence
We strive to attain the best possible results, in patient care and research. We can offer the best possible treatment result and quality of life according to the latest  developments and insights. Our researchers work hard every day to better understand how cancer develops, and how we can best cure it.
Groundbreaking
We deliver groundbreaking care and research. This means that we can think outside of the box, if this is in our patient's benefit. We continuously strive to improve and innovate. We think ahead and seek out opportunities.
Together
Delivering the best care and research means working together. We look for solutions, possibilities, and innovation. It is important to us to find a suitable treatment plan, or combination of treatments at our hospital, together with our patients.
Directors and Organization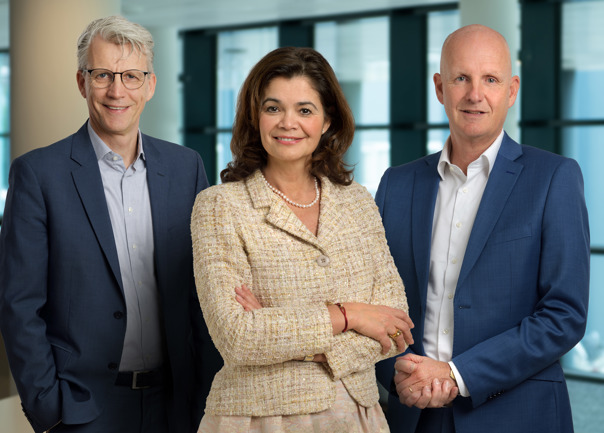 Supervisory Board
The Supervisory Board is compsed of experts in the following fields: management, research, patient care, financial-economic, and legal matters. The position of the Netherlands Cancer Institute benefits from a strong composition in its Supervisory Board. The Supervisory Board maintains overall supervision of the Board of Directors' management, policy, and the general affairs of the foundation and the connected institutions. The Supervisory Board supports the Board of Directors with its advice. The Supervisory Board consists of:
Mr. mr. L.J. Hijmans van den Bergh, director of the Supervisory Board
Mr. prof. dr. J.H.J Hoeijmakers
Mrs. drs. A.M. Jongerius, member Quality Committee, member on the recommendation of the Patient Council (PAR)
Mr. prof. dr. J.M.J.M. van Krieken, director of the Quality Committee
Mr. M.P. Lap, member of the audit committee
Mr. prof. dr. M.M. Levi, head of the audit committee
Mrs. mr. H. Uhlenbroek, vice-chairman and member of the renumeration committee
Directors of Medical Staff
Dr. E.P.M. Jansen, radiation oncologist (director)
Dr. J.M. Kerst, medical oncologist (secretary)
Dr. M. van Beurden, gynaecologist (member)
A. Bruining, radiologist (member)
V.L.M. Tjoa, anesthesiologist (member)
Dr. M.F.T.D. Vrancken Peeters, surgeon (member)
I.N. van de Werf (secretary, bms@nki.nl)