Cancer research climbing out of a slump after COVID-19, ex-patient Barbara crosses legendary Stelvio for donations | Hart van Nederland
25 Aug 2021 11:30
The following article was originally posted on the Hart van Nederland website: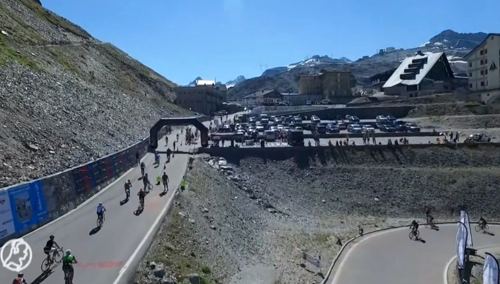 Hundreds of Stelvio for Life participants traverse the infamous Italian mountain with the same name every year to raise money for cancer research. All the money they raise will directly benefit oncologist Emile Voest's project. Last year, they lost their main source of income as a result of COVID-19, but this year all participants can prepare their bikes again.
Participant Barbara Brundel is a breast cancer survivor herself. This will be the seventh Stelvio for Life participation for her and her family. "I joined for the first time in 2013. I had already done the Alpe d'Huzes. We picked up biking because my sister had survived cancer and wanted to get back in shape." Our little group kept growing as more family members and friends joined in."
In February 2018, Barbara was diagnosed with breast cancer. "Immediately my husband told me that I would be biking across the Stelvio that August. And I did it. My sister won't be joining us this time as she is now 58 and is no longer able to. Last time her husband had to push her forward for 10 kilometers."
Hans den Hartog, who organizes the event, is glad to see Barbara and the other 300 climbers at the start of the race again. About two-thirds of the participants cycle across the mountain, he explains. Everybody else walms or runs. "We are expecting to raise 400,000 euros this year. Next year will be a crown year - we are hoping for an extra zero for the occasion."
No research without the initiative
Emile Voest, an oncologist at the Netherlands Cancer Institute in Amsterdam, will use all profits in his research about DNA errors. "In short, if you don't have errors in your DNA, you won't develop cancer. if you do, you risk developing cancer. That's the condition's main vulnerability, so that's how we are hoping to fight it. A personalized treatment based on the exact error in the DNA. We have already been able to help over a thousand patients."
The researcher emphasizes the importance of this fundraising initiative. "Without Stelvio for Life, this project wouldn't exist. The event had to be canceled last year due to COVID-19, which shows us how important it really is. Everything had to take a step back. I once was involved in the foundation of Stelvio for Life and participate every year. It's always a very emotional day, especially once you reach the summit."
More funds needed
Barbara emphasizes the importance of this research project. "He doesn't share a lot about it himself, but Emile's personal approach is very successful. It started small, but now all hospitals in the Netherlands are involved and we even gained an international following. Health insurance providers are on board as well, but we really need more funding."
The athletes are ready to start this coming Saturday. Preparations for this year's edition were far from ideal, Barbara admits. "I have never been this heavy before, so it will be a lot harder for me to climb the mountain. And I've been cussing and cursing as I climb every time so far. Although on occasion I did manage to reach the summit before my friends who were in better shape than me, so who knows what will happen. Anyone can do it, as long as you take it at your own pace. Even me, with my strange body."