Start of organ-sparing treatment clinic for rectal cancer
22 Apr 2021 13:39
Over the past years, we have increased our understanding of organ-sparing treatment for patients with rectal cancer: treatment in which the rectum itself is preserved. The need and possibilities for organ-sparing treatment for rectal cancer are increasing. That's why the Netherlands Cancer Institute (NKI) is establishing a special clinic where patients, specialists, and general practitioners can find answers to all their questions about organ-sparing treatment for rectal cancer: the NKI organ-sparing rectum clinic.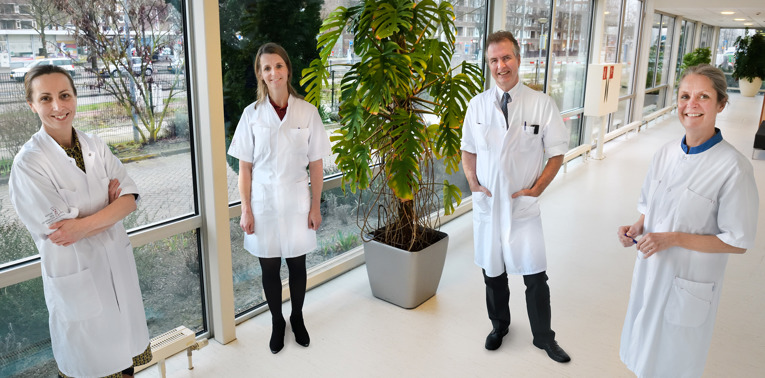 Organ-sparing treatment
Standard treatment for rectal cancer consists of the surgical removal of most of the rectum, which sometimes results in a permanent colostomy. Surgery is often preceded by radiotherapy, sometimes in combination with chemotherapy (chemoradiation) depending on the stage of the illness. Organ-sparing treatment aims to prevent the surgical removal of the rectum if this is safe. Research has shown that the quality of life after successful organ-sparing treatment is much higher than after major rectal surgery. Radiation oncologist Femke Peters: "We want to find the best option together with all patients who wish to receive organ-sparing therapy, while also informing them about what won't be possible, as not every patient is eligible for this type of treatment."
"Watch-and-wait" approach
One example of organ-sparing treatment is the "watch-and-wait" (wait-and-see) approach. We have gained a lot of experience in this area over the past years under the supervision of surgical oncologist Geerard Beets. If a patient's tumor appears to be gone after pretreatment with radiation, rectal surgery may not be necessary. The patient's rectum will be closely monitored using endoscopy and MRI. If some tumor remains are found after the pretreatment, additional localized treatment will be given. This can be internal beam radiation therapy or the localized surgical removal of the tumor. We also run various (national) trials to be able to offer organ-sparing treatment to more patients with rectal cancer.
NKI organ-sparing rectum clinic
The NKI wants to increase awareness of all possible organ-sparing treatment options, and intends to make its experience and knowledge more easily accessible. Patients with rectal cancer and questions about organ-sparing treatment options can be referred to the organ-sparing rectum clinic for advice. General practitioners and specialists from other hospitals can also come to us for general or patient-specific questions. Brechtje Grotenhuis, surgical oncologist and one of the founding members of the clinic together with her colleagues: "Patients with rectal cancer can come to the NKI organ-sparing rectum clinic to have all necessary examinations done in one day, and will receive treatment advice provided by the entire team of specialists across disciplines directly after. This is teamwork in the true sense of the word." If possible, treatment will be provided at the referring hospital, which is closer to the patient's home.