Winette van der Graaf new EORTC President-Elect
22 Jun 2021 17:24
Medical Oncologist and Professor Winette van der Graaf will be the new EORTC President-Elect. This is the first time that someone from the Netherlands Cancer Institute is to take on this role. The European Organisation for Research and Treatment of Cancer (EORTC) is one of the most well-known European organizations for oncological research primarily involved in clinical trials. Many of our colleagues at the Netherlands Cancer Institute are actively involved with the EORTC.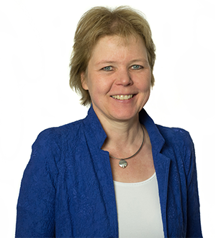 "It is an honor to be able to govern this world-renowned academic multidisciplinary organization," Van der Graaf proclaims cheerfully. "This is a great challenge and opportunity for me to be able to offer all EORTC the opportunity to realize their ambitions in terms of oncological research and clinical trials together with the Board of Directors, for the benefit of all patients. And when I see the responses, I believe that many of our colleagues are also happy to see someone from the NKI selected for this position."
The NKI Board of Directors is very happy to see this prominent, honorable, and challenging appointment, as is the EORTC Board of Directors. They describe Van der Graaf as "a Medical Oncologist with clinical and scientific international leadership in oncology and in cancer clinical research" The board mentions "her skills and capacities to engage with people have been inspirational to many, positioning her as a mentor for the new generation of doctors." Van der Graaf will guide the EORTC in their work with patients and advocacy groups to ensure their contribution to the EORTC scientific programs. Van der Graaf has been a longstanding member of EORTC,  specifically of the Soft Tissue and Bone Sarcoma Group and the Quality of Life Group.
Van der Graaf's appointment is part of a transition toward a new governance structure. To ensure a smooth transition to the new governance, the current President-Elect will remain in charge until March 2022 when the EORTC celebrates its 60th anniversary allowing Professor van der Graaf to gradually take over the new organization.