Six research teams can get started thanks to KWF support
12 Jul 2022 16:08
Six teams will be able to get started on their new projects, as KWF Dutch Cancer Society announced today that it will fund their research projects. That means that there will be new insights on the horizon: on DNA circles that assist cancer cells, immune cells that do not remain in good shape, and women who received cancer treatment decades ago.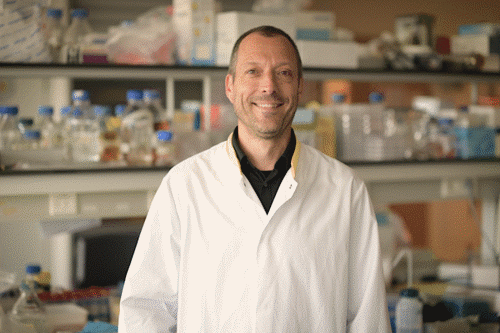 We know so much about cancer, yet so little at the same time. These six new grants, worth a total of 4 million euros, will allow our researchers to tease out some of their most pressing questions. Can we, for example, develop a new type of immunotherapy for patients with brain tumors? The current successful immunotherapies based on T cells do not work in this patient group, so we need to change course. Brain tumors often contain a different kind of immune cell: macrophages. These might be interesting targets for immunotherapy. However, Leila Akkari's research group has already shown that these cells team up with the tumor cells. That is why they want to find out how these macrophages behave – or misbehave – so that they can still be used in immunotherapy. Meet Leila Akkari in this video.
DNA circles
Another new angle for cancer treatment is located in the nucleus of the cancer cells. Many of them contain additional DNA circles that aid their survival. Could this be a starting point for an innovative treatment? With this question in mind, Rene Medema's research group will be investigating how these DNA circles manage to (continue to) exist and how they work in cancer cells.
Cognition and chemotherapy
Researchers from three different groups will also be able to work on their unanswered questions about breast cancer, each from their own angle. How can we, for example, make sure that the brains of people receiving chemotherapy maintain the best health possible? Sanne Schagen's research group will investigate cognitive aging in breast cancer survivors by returning to the women who participated in a previous study and who are now 77 years old on average. Do they experience early cognitive aging?
Immunotherapy
Another unanswered question: why does only 1 in 20 women with triple-negative breast cancer respond to immunotherapy with checkpoint inhibitors, a treatment that is so successful in several other patient groups? Jos Jonkers' research group is looking to unravel the reason why those cancer cells are insensitive to immunotherapy, and how we can make them more sensitive so the therapy can do its job.
Hormone therapy
The nuclei of individual breast cancer cells will also be put under a magnifying glass. Using a technology for analyzing individual cells and yet-to-be-developed computer programs, Elzo de Wit's research group will investigate who is operating the dashboard of breast cancer cells' genes. One essential aspect is that there are many differences between the cells residing within a tumor or metastasis. The researchers will be looking at differences between cancer cells in search of the reason why some patients do not respond to hormone therapy.
Cell therapy
Last but not least, the research groups of Fred van Leeuwen and Heinz Jacobs will be investigating how they can make cell therapy more effective. In cell therapy, a patient's immune cells are multiplied (and sometimes modified) outside the body and subsequently returned to the patient to fight the cancer cells. In order to do their job well, the immune cells should not be exhausted. How can we make sure that the immune cells remain in good shape? That's what they will be investigating by altering the packaging of the DNA in immune cells.