Radiotherapy for sarcomas
The sarcoma work group at the Netherlands Cancer Institute prefers treating patients with sarcomas on the arms or legs with radiotherapy for 5 weeks before their surgery.
Radiation before or after treatment?
The odds of controlling the sarcoma with radiotherapy before or after surgery are equally high, but people receiving radiation treatment to their arm or leg before surgery tend to maintain function in their limbs in the long term. You will have less scar tissue, less joint stiffness, and less edema.
If you have already had surgery at a different hospital, you are welcome to come to the Netherlands Cancer Institute for radiation after surgery. This treatment will take about 6.5 weeks.
The prodecude
First consultation
Before your radiation session you will meet with your radiation therapist.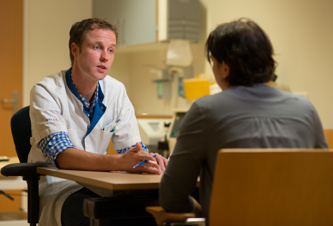 Register at the reception desk
If you have an appointment for radiation therapy, please register at the Radiation Therapy reception desk.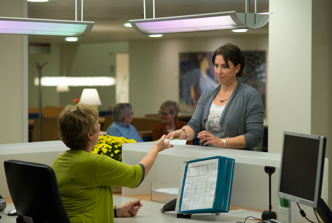 Fixation material
We will use fixation devices to ensure that you are in the exact same position during all sessions.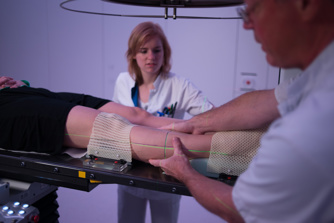 Guidance from radiation lab technicians
Radiation lab technicians will guide you during the radiation session and will ensure that you are in the crrect position at all times.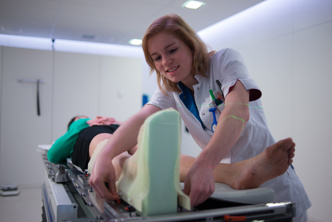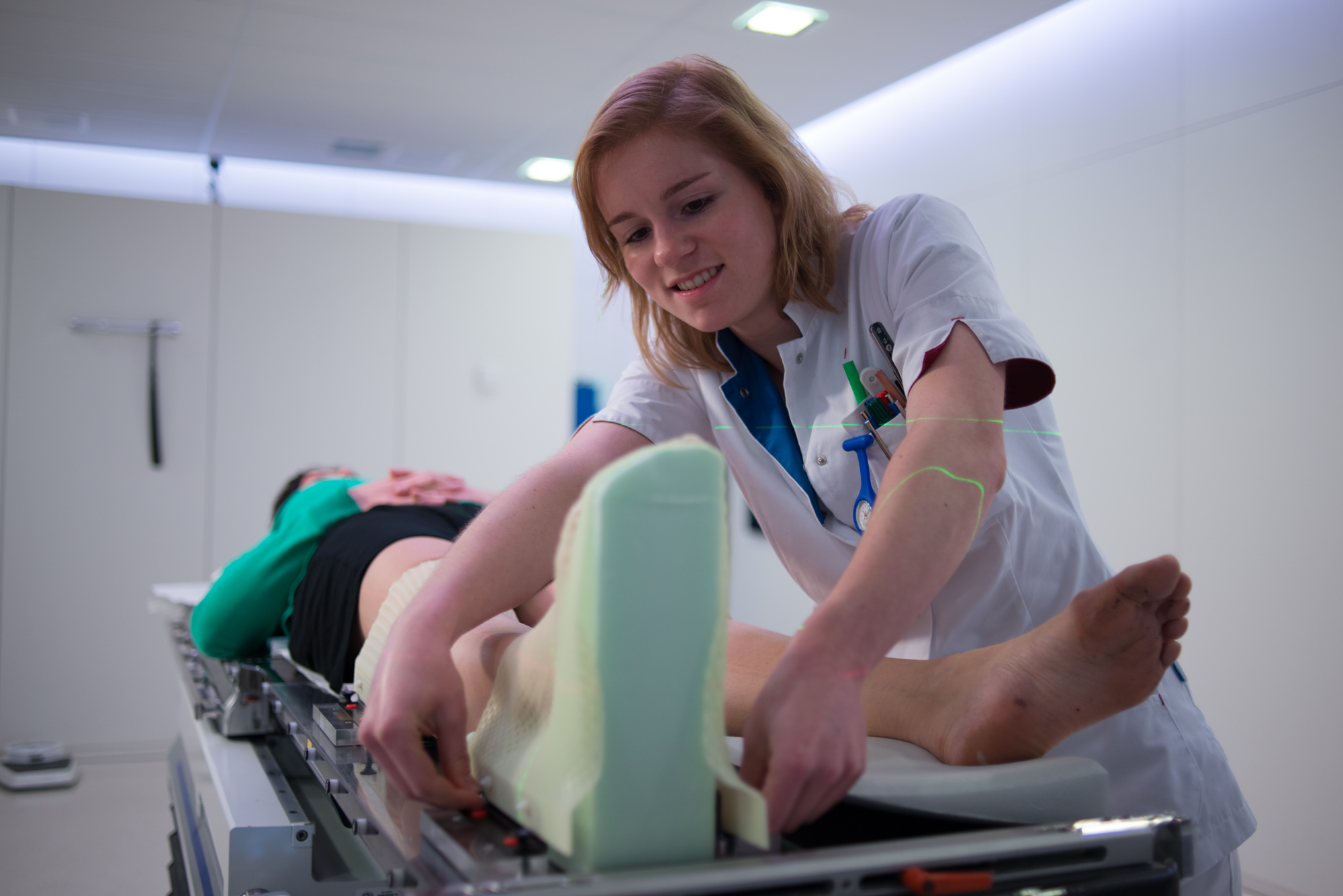 What to expect?
The size, type, location and stage of the tumor differs between all patients. We offer precision medicine, a highly personalized type of treatment that takes your overall health into account. Together with other specialists, we will decide on the best treatment option for you. Your radiation therapist or physician assistant can give you more information.
Preparation
After meeting with your radiation oncologist you will come in for apointments to prepare for your treatment. You will come in for an informative consultation during which you will discuss the procedure. Then we will expect you at the moulage room to create fixation devices for your arm or leg to prevent movement during radiation delivery. You will have a CT scan in the same position you will be in during your treatment. We will draw lines on your body and fixation devices to ensure that you will be in the exact same position during all treatment sessions. Some people will also need an MRI scan as a preparation for the radiotherapy. Your radiation oncologist will use these scans to determine the radiation field.
Treatment
You radiation oncologist will decide the amount of radiation sessions you will need - something in between 25 before your surgery, or 30 to 35 after surgery. Radiation will be delivered on weekdays and each session will take 15 minutes. The delivery of the radiation itself will only take 1 or 2 minutes. We will often check whether your position is still correct by using a CT scanner attached to the machine. This allows us to make small adjustments to your position in order to ensure that the radiation matches the tumor shape as closely as possible. Radiotherapy lab technicians will deliver the radiation. You will regularly meet with your radiation oncologist during the treatment.
side effects
The side effects you will experience depend on your personal situation, overall shape and health, and the area that is receiving the treatment. You may experience skin reactions (redness, itching). if you are receiving radiation around the skin folds (armpits, groin) your surface skin may break. Most people experience side effects like these towards the end of their treatment, and they will last for about two weeks. It may be painful for you. The department's assistants can help you with skin care and advice.
If you are receiving radiation in an area with muscles or joints, you may feel a stiffness after some time. This is usually worse in patients who have already had surgery and are receiving 6.5 weeks of radiation treatment afterwards. People receiving radiation before surgery usually don't experience as much stiffness. You will lose hairs on the area receiving radiation. This will be temporary. You may experience fatigue due to the radiation itself and due to frequent trips to the hospital.
Follow-up care
During your treatment you will regularly meet with your radiation oncologist to discuss the progress and ask any questions you may have. Your radiation oncologist will offer advice on how to deal with the side effects you are experiencing and prescribe medication if needed. You will also hear about the check-up consultatins after your treatment.
If you would like extra care during or after your treatment, please ask your radiation oncologist or physician assistant to refer you to the NKI Survivorship Center. Our physical therapists, occupational therapists, social workers, and psychologists are experienced in care for cancer patients and would love to offer additional support during and after your treatment. 
Fertility preservation before your treatment
Treatment for sarcomas near the groin can harm your fertility levels. The NKI cares about the quality of life of its patients and offers the possibility for fertility preservation. Click here for more information about fertility preservation.